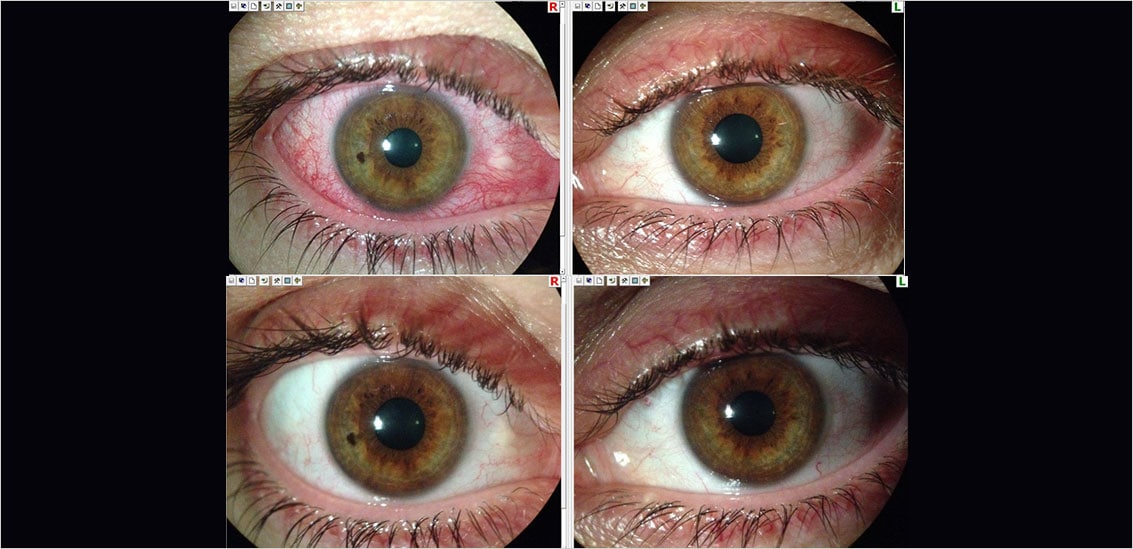 This is a case of a fit 37 year old gentleman who presented with a very inflamed and sore right eye for the past 3 days. There was no discharge although the vision was slightly unclear and he was quite sensitive to light. He saw his GP who prescribed antibiotic & anti-allergy drops. However, there was no improvement.
External examination revealed significant global redness of the right eye, clusters of white blood cells, macrophages and epithelioid cells in the anterior chamber. The eye pressure was normal. The patient was diagnosed with Acute Anterior Uveitis (inflammation of the iris) and treatment was initiated (see top photos).
At his review visit, the redness, pain, light sensitivity and blurred vision had resolved as did all of the signs of inflammation in the front chamber (see bottom photos).
The patient will continue to use the anti-inflammatory drops but on a tapered dosage over the next 4 weeks so as to minimise the risk of permanent eye damage and the chance of the red eye coming back.
This case highlights the need for a thorough assessment for the correct diagnosis, treatment and speedy recovery of your eye problem. So next time, rather than see the chemist or your GP, consult your eye doctor first.